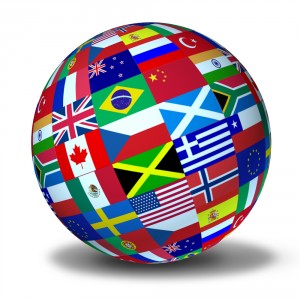 Bilingualism before the 19th century had been reserved for the upper classes, for those with the time, educational opportunities and money to dedicate to learning a language (which they most likely would very rarely use). Knowing more than one language indicated prestige and importance.
However, on the other end of the spectrum traders and travelling merchants needed some knowledge in other languages. During medieval times these merchants developed dialects of their own in order to communicate between different villages and other merchants. In more modern times, though, as the world becomes a smaller place due to progress in transportation, technology and global trade attitudes towards bilingualism have changed drastically.
Transition of labour force duties post-Industrial Revolution resulted in more people in offices rather than in factories, colonial trade links meant for a more informed, worldly workforce and subsequently increased requirements to be able to communicate with other nations for the sole purpose of trade. In the following century with the telephone becoming an office staple and most recently the development of the internet and computers global business can be conducted from the comfort of a desk anywhere. This, of course, means you have the opportunity to trade with anyone anywhere – that is, if you can speak to them.
From New York to London, Tokyo to Baghdad, you'd be hard pushed to find there isn't a representative at every big company to communicate with international partners in their native tongue. Communication is key to the success of a business. This is why bilingualism or multilingualism is such an important factor when securing a job in the current economic market. Fluency in languages like English, Spanish, Mandarin and German are invaluable to opening up career opportunities. Even less widespread languages are in demand, if not more so.
Conducting business in various languages allows oneself to be versatile, it shows ingenuity, initiative and intelligence. All of which factors that are highly valuable to prospective employers. However, the bilingual audience must not get too ahead of themselves, proclaiming their language capabilities as something which distinguishes them from the crowd. As identified earlier the increasingly small global market facilitates increased (and more vicious) competition. And more and more frequently it's considered a disadvantage to not boast a second language on your resumé, particularly in capital cities.
It is beginning to become widespread, if not expected, that a significant portion of a corporation's workforce can effectively work internationally; particularly in the EU as this allows corporations to take advantage of free trade and movement of peoples in addition to the variety of languages on the landmass. In the UK, young adults are scrambling to learn European and Asian languages in order to improve their job prospects, it is commonplace in central and eastern European nations for children to learn English in school as well as in China. This increase in bilingualism is great for employers but the versatility of individuals means hypothetically any person can secure any job anywhere – meaning the most aggressive competition for jobs, possibly in history.